Mar 1, 2022
100 Employees and Counting: Stavvy's Commitment to Impact
By Josh Feinblum - Co-Founder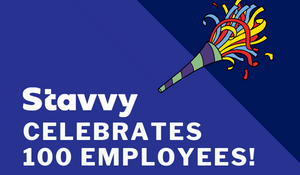 Life is a series of experiences, and when you look closely enough, it's in those experiences you can find the moments that matter most. Kosta and I found ourselves sharing one of those co-founder moments nearly three years ago shortly after entering Stavvy's first "office." As we sat for the first time, we caught ourselves glancing at each other with an almost telepathic understanding that we were at that exact time beginning an extraordinary journey together.
Today we celebrate another one of those moments as Stavvy surpasses 100 employees and officially opens our Boston headquarters. While the Stavvy family has experienced many milestones in the past three years, getting past the 100 employee mark is notable in that it offers us an opportunity to reflect and celebrate the shared experiences we've had and the people who got us here. In that reflection we find ourselves filled with both gratitude and pride.
Kosta and I have always had tremendous confidence that we would build a unique and outstanding team with a shared vision of transforming some of our society's most important industries. Still, three years ago, I'm not sure that we could have forecasted the level of unyielding support and trust we've received from so many, ultimately cultivating the prologue of what is the beginning of this beautiful journey.
We owe thanks to our earliest employees, many of whom were coming to grips with a stunning and unprecedented round of layoffs across tech, and still chose to put their trust in Stavvy during a period of tremendous societal uncertainty. A small team of warriors that together allowed us to deliver a world-first Remote Ink Notarization platform within weeks of the first executive orders permitting many types of transactions to be done in this fashion for the first time ever. Their work enabled our first engagement with some incredible title insurance partners, who without delay got behind Stavvy and agreed to insure transactions facilitated through our platform.
As our product evolved, so did our place in this remarkable industry. By the end of 2020, Flagstar Bank had taken interest and introduced us to the Mortgage Servicing industry. This introduction enabled us to facilitate the first fully remote loan modifications in US history, allowing us to help people stay in their homes with a degree of ease that had never been seen before.
As this traction picked up, our fantastic team grew, and continued to build incredible products at an extraordinary rate. New and existing investors took note and led us to a historic Series A financing round. Our team of investors took a chance on us, and their trust has allowed us to continue building one of the industry's best eClosing and Remote Online Notarization platforms, supported by a broader team that could challenge any startup in the world as "the best." Today, we welcome our entire team into our new office space that is designed for how we work in 2022: collaboratively, efficiently, and flexibly.
And that brings us to the most critical reflection of this moment. We've accomplished amazing things by building a team of fearless pioneers that have proven we can be a different kind of company. One that's focused on our impact just as much as we're focused on revenue. And in return, we continue to strive to be a unique employer focusing on building our team with a culture-first approach. At Stavvy, our values are not just words on a wall, they run through the DNA of our company at every level.
Kosta and I will never be able to thank every member of the Stavvy family enough. The trust that each person on this team has put in us, and each other, is remarkable. That trust, coupled with hard work, has equipped us to build extraordinary friendships and partnerships while driving meaningful impact across entire industries that were almost unimaginable just a few short years ago. So here's to employees 200, 1,000, and 10,000 - each who will play a critical part of this amazing story.
Josh Feinblum - Co-Founder
Author
Watch an instant demo of Stavvy
Get an on demand video demo
Watch Demo