Jun 15, 2022
3 Takeaways from NS3 2022
By Stavvy Team
The National Settlement Services Summit in Orlando brought together 1,000 professionals for three days of discussion, educational opportunities, and networking events.
Stavvy's team attended, joined discussions on the exhibition floor, and even participated in a presentation on the future of remote online notarization (RON).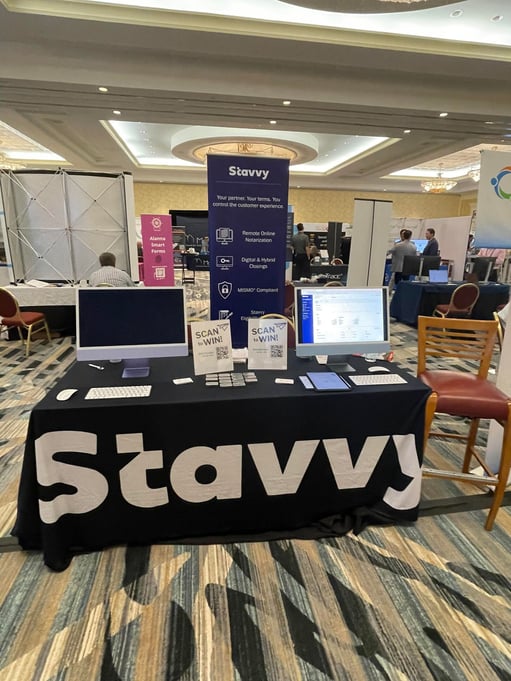 Here are a few of our takeaways from NS3 2022:
Transparency in real estate matters
Battling the status quo is difficult in real estate, and its spinoff industries, such as mortgage origination and servicing, but everyone at the table deserves speedier transactions with clarity.
In his keynote address, Chris Mygatt, SVP & Core 4 Engagement Leader at Coldwell Banker Realty, talked about how speed and transparency are necessities in the homebuying process.
Not only are these attributes positive for the consumer – but they are better for real estate agents, title & settlement agents, and lenders. Mygatt talked about how implementing a more streamlined, tech-driven process for home buying is an overall better experience – and its existence moves potential buyers down the sales funnel.
Mygatt's address set the tone for the rest of the conference, which continued to delve into the universal challenges of settlement service providers.
Consumers will continue to drive demand for change
While settlement services work on a business-to-business model, the expectations of end consumers matter. In the session RON Here and Now, Stavvy's Chief Evangelist Jeremy Potter spoke about how tracking technology – from packages in the mail to pizza deliveries – affects how consumers view real estate transactions.
"Tech tools should enhance connectivity and a feeling of knowing what is going on and that everyone sees the same thing," Potter said.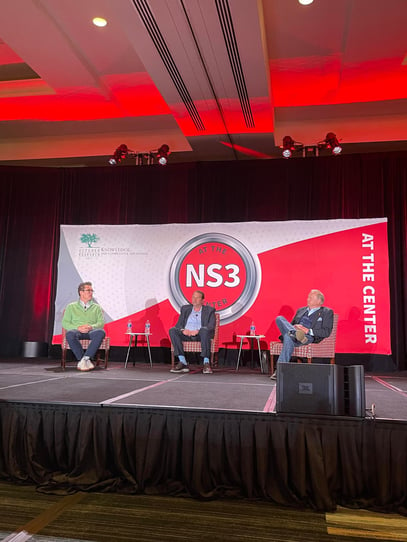 Potter shared the stage and discussion with two other industry leaders: Tim Anderson, President of the eMortgage Division at eVolve Mortgage Services; and Nathan Bossers, President of Boston National Title. They discussed how the pandemic shifted an already-expectant public to demand more data transparency and accessibility.
"Adoption of any technology is a consumer push, but it will be capital markets that need to make those adjustments," Anderson said.
This need for greater technology adoption, and the consumer demand behind it, was referenced throughout conference events, including the keynote mentioned in our first takeaway. Mygatt pointed out that the remote transaction uptick fueled by the pandemic is "NOT a fad" and is important to continue to master.
The nature of payments is changing
The way consumers spend their money continues to evolve – not just for small-ticket items. The topic of Real-Time Payments was discussed in a session co-presented by Cheryl Gurz, RTP Product Manager at The Clearing House, and John Melvin, VP of U.S. Bank Global Treasury Management.
They touted the positive benefits of "going real-time," such as pre-payment account verification, avoiding the hassle and cost of rejected transactions, and mitigating other risks associated with less-anticipatory payment methods. Their presentation also tied back to our previous takeaway; consumers like and expect real-time payment options.
And speaking of real-time payments: enter Intro to Crypto. The session was co-presented by Tali Raphaely, President and Managing Member at Armour Settlement Services, LLC, and Chris Sauerzopf, Co-Owner of World Class Title – and moderated by Logan Barno, Editor at Dodd Frank Update.
The session centered on how unfamiliarity with cryptocurrency can translate to fear or perceived volatility – but the settlement services industry needs to develop a working knowledge of how, and why, crypto is used. For example, they pointed out that first-time homebuyers are increasingly using crypto for down payments – 11.6% in Q4 2021, according to Redfin data. Rather than run from crypto, settlement service providers must learn how to operate in a crypto-climate.
NS3 is just the springboard for further change and discussion for the rest of this year, begging the question: What will be on everyone's minds at next year's NS3 conference?
Watch an instant demo of Stavvy
Get an on demand video demo
Watch Demo