Remote online notarization (RON) is taking off in the real estate and lending industries.
Despite the forward momentum, rolling out a new digital service offering on top of running your day-to-day business is no walk in the park. You must stay on top of your everyday work, like accommodating customers and lenders, conducting title searches, coordinating schedules and travel arrangements, and preparing physical closing packages. Plus, educate yourself on RON, vet a technology vendor, and interpret eNotarization legislation and insurance underwriting requirements, to name a few.
However, if the month-end closing frenzy is becoming too much and beginning to outweigh the hesitation to learn something new, it may be time to revisit your pen and paper approach.
What is remote online notarization (RON)?
Before diving into remote online notarization's popular advantages, let's review what RON is.
Remote online notarization or RON is the electronic notarization of official mortgage documents. This popular form of electronic notarization requires, at a minimum, secure audio-video, eNotarization, and eSignature technology.
Top benefits of remote online notarization
Due to the rise in popularity and homeowner expectations, title and settlement agents often become subject to purchasing several digital tools, one for each part of the electronic notarization process:
Communicating with all parties digitally

Executing remote notarization at the digital closing table

Collecting and capturing electronic signatures from all signers
However, for maximum benefits, investing in a SOC-2 compliant and MISMO®-certified solution that houses every digital closing feature, like the Stavvy digital mortgage platform, is the best move for title agencies.
Below are the top four advantages of growing your business with this popular form of electronic notarization in a digital mortgage platform.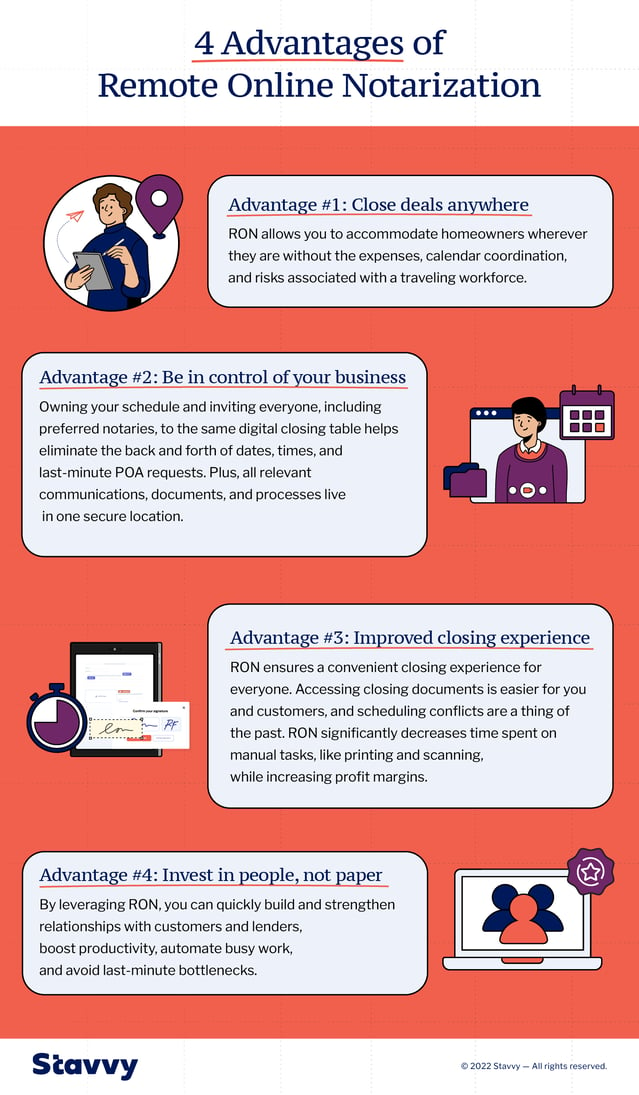 Beyond the benefits of remote online notarization
Want to explore other RON and title and settlement-related topics? Consider downloading our eBook or subscribing to our blog.
If you're on the hunt for the perfect RON technology partner, we'd love to give you an exclusive look at the Stavvy digital mortgage platform, which is pre-loaded with user-friendly features like eSign, RON, and our Eligibility Engine.