Oct 12, 2022
The Complete Guide to Remote Online Notarization (RON)
By Stavvy Team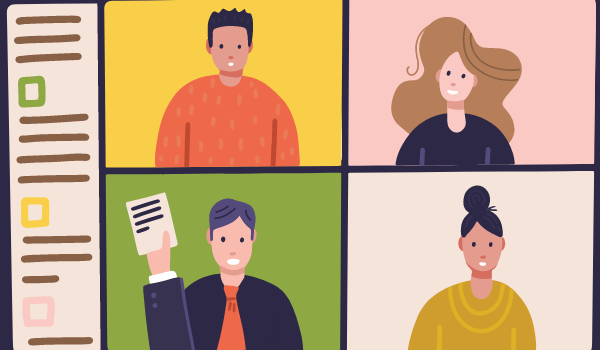 Remote online notarization (RON) was first introduced in the Commonwealth of Virginia in 2012 but has significantly risen in popularity over the years, with more than 80% of the United States enacting permanent RON laws and the SECURE Notarization Act continuing to gain traction on Capitol Hill.
Legislation aside, mortgage professionals leveraging RON today believe in its sticking power. According to a recent ALTA survey, 62% of title companies currently offering RON believe this closing option will increase over the next year, and 77% of respondents believe that RON requests from lenders, realtors, and homeowners will speed up adoption even further.
The introduction of RON is changing the foundational fibers of the mortgage and real estate industry, a space that has heavily relied on paper, postage, and physical hand-offs for decades. However, despite rising adoption rates, many mortgage and real estate professionals still struggle with the idea of remote online notarization.
Throughout this blog, we cover all things RON, including what it is, its benefits, and how to close a transaction using RON, to give you the clarity and confidence to start offering this remote closing option to your customers at scale.
What is remote online notarization (RON)?
RON, also known as remote online notarization, is the electronic notarization of official mortgage documents during an eClosing. This popular form of electronic notarization requires, at a minimum, secure audio-video, RON, and eSignature technology.
During an eClosing with RON, the notary and signer aren't physically together in the same room, which has been standard practice since the 1600s. However, the digital nature of this transaction allows homeowners, title agents, real estate attorneys, and notaries to ditch the slow paper process, close deals quicker, and execute official documents from anywhere with a WiFi connection.
The adoption of digital mortgage technology and RON solutions, in particular, has opened the door for eNotes and eRecording and provides mortgage professionals with the ability to offer a fully digital experience for homeowners and stakeholders. Although, despite the digital buzz circulating in the industry, RON is not yet legal nationwide—let's explore where RON is available in the United States today.
Helpful RON Resources:
What states allow remote online notarization in 2022?
Forty-five states have enacted permanent RON laws, and nearly 50% of those states have adopted the Revised Uniform Law on Notarial Acts (RULONA) or some variation.
As of March 2023, RON law is effective in the following states:
Alabama
Alaska
Arizona
Arkansas

Guam

Hawaii
Idaho
Illinois
Indiana
Iowa
Kansas
Kentucky
Louisiana
Maryland
Michigan
Minnesota
Missouri
Nebraska

Nevada

New Jersey

New Mexico
North Dakota
Ohio
Oklahoma
Oregon
Pennsylvania
South Dakota
Tennessee
Virginia
Washington
West Virginia
Wisconsin
Wyoming


Every state has its unique RON law; therefore, if you decide to add RON to your closing options, it's essential to review the notarization legislation closely and refer to the resources available on the Secretary of State websites. However, it's critical not to stop there, particularly those working in the mortgage space.
In addition to familiarizing yourself with state-level legislation, it is important to comply with all title underwriter and investor electronic notarization requirements to ensure your mortgage transactions are insurable and sellable. The easiest way to accomplish this is to work with a title underwriter-approved and MISMOⓇ certified platform.
Now, let's dive deeper into why RON is valuable to mortgage professionals and necessary for business growth and best-in-class customer service in today's market.
Helpful RON Resources:
What are the benefits of remote online notarization?
RON has many advantages, from offering flexible and compliant closings to controlling your workflow and costs and delivering an exceptional (and desired) customer experience. However, business benefits and success with RON are direct byproducts of aligning your organization with digital mortgage technology that offers an eClosing solution and can grow with your business. Below are the top benefits of RON for real estate and mortgage-based companies.
Top 6 benefits of remote online notarization
1. Close transactions from anywhere
Before RON was made available legally, if a homeowner wanted a remote closing, the only option was a paper mail-away closing. Mail-away closings require the signers to locate and visit a notary public to witness their signatures before mailing closing documents back to the title company for review and processing. While essential to the success of a mail-away closing, these time-consuming tasks aren't convenient or error-proof and can cause customer frustration and closing delays. Additionally, the manual paper process is expensive for title companies to execute, making it hard to scale.
RON allows customers looking for a convenient or remote closing to opt for an eClosing or an electronic closing. eClosings offer faster transaction times, including expedited mortgage closing sessions and loan fund disbursement.
Contrary to what you may think, homeowners are not the only ones who benefit from the speed, flexibility, and convenience of a RON transaction. RON allows title agents to accommodate customers regardless of geographical location and expand into new service areas without the added expenses, calendar coordination, and risks associated with a traveling workforce. This operational efficiency directly impacts transaction turnaround times, productivity, employee retention, and business growth without sacrificing the customer experience.
In that same vein, RON allows loan originators to feel good knowing that their customers are receiving an incredible experience come closing day. Additionally, due to the electronic nature of the transaction, the cost to originate a loan is significantly less, and the time spent in closings is cut by up to 50%.
2. Control your business
Adding RON technology to your lending or title company can help you feel in control of your business. Owning the closing schedule, workflow, and expenses and inviting signers, partners, and preferred remote notaries to participate in a digital closing in one secure location creates a streamlined experience for everyone involved.
3. Eliminates post-closing errors
The paper mortgage process may be your proven way; however, it's not 100% error-proof. Little mistakes, like a missed checkbox or an overlooked signature, can not only extend a transaction's length but can also cost companies additional money and resources to fix.
When an eClosing with RON is performed in a state-approved, title underwriter-compliant, and MISMO® certified platform, missed fields, including signatures, checkboxes, and initials, are less likely to occur because they are flagged in the system allowing the end-user to take immediate action, and avoid costly closing delays. Lastly, an eClosing performed in a secure platform ensures that all documents are stored securely with a digital audit trail, eliminating the risk of misplacing mailed personal and financial documents.
4. Better closing experience for everyone
RON ensures a convenient and flexible closing experience for all participants. Most eClosings with RON are performed in just 20 minutes. In addition to the time savings, collaborating on closing packages are easier for lenders and title agents, and scheduling conflicts due to travel or work are no longer concerns for homeowners. Loan originators can rest easy, too, knowing that eClosings with RON creates a great customer experience for its signers.
Remote notarization makes a fully digital closing possible for homeowners; however, a great closing experience is powered by quality digital mortgage technology. Digital mortgage technology helps everyone involved in a transaction streamline the mortgage process and eliminate time spent on manual tasks, like printing, scanning, and shipping, while ensuring top-level security and compliance at every step. Additionally, digital mortgage technology brings stakeholders, including homeowners, lenders, remote notaries, real estate attorneys, and title companies, together in one system, fostering better collaboration, and dismantling silos and communication barriers.
5. Increase identity verification protocols on closing day
A traditional notarization requires a notary public to manually identify the signer using a photo ID or passport. Digital mortgage technology, specifically an eClosing solution, uses the latest multi-factor authentication (MFA) and identity verification technology, including knowledge-based authentication (KBA), and credential analysis, to make RON more secure.
Knowledge-based authentication, or KBA, is a method of authenticating someone's identity in a digital platform, such as asking the user to answer a series of secret or "out-of-wallet" questions.
Credential analysis is the process of validating a government-issued photo ID and often requires third-party software or vendor support.
6. Re-invest in the people side of your business
You can quickly strengthen relationships with customers and lenders by leveraging RON to facilitate closings, boost office productivity, automate busy work, and avoid last-minute bottlenecks. Getting back to the people side of your business may not have a quantifiable impact on your business, but is there anything more important than relationship building in the mortgage and real estate industry? We think not.
Helpful RON Resources:
What is the difference between remote online notarization (RON), RIN, and IPEN?
Many people confuse RON with remote ink-signed notarization (RIN) and in-person electronic notarization (IPEN). Below are basic definitions for each transaction type to help you distinguish between the three electronic notarization methods.
In-person electronic notarization (IPEN)
In-person electronic notarization, or IPEN, is a type of notarization where documents are signed and notarized electronically, and the signer and notary are together in the same physical location.
Remote online notarization (RON)
RON is a type of notarization where signer(s) appear before the notary using an online audio-visual platform to sign and notarize documents electronically.
Remote ink-signed notarization (RIN)
RIN, or remote ink-signed notarization, is a type of notarization where the signer(s) and notary are in different physical locations during the signing but are connected via audio-video technology. After the signing, the documents are shipped to the notary for the manual application of the notarial seal.
With a clearer understanding of RON, RIN, and IPEN, let's learn how to close a real estate or mortgage transaction with RON. There are seven simple steps to ensure your eClosing with RON is simple, compliant, and legally binding. And for more details on how each of these popular notarization methods factors into an eClosing, you can check out this informative blog post.
How to close a mortgage transaction with remote online notarization
If you ask half a dozen people how to close a real estate or mortgage transaction with RON, you may get half a dozen different answers, and that's because everyone's process and digital mortgage technology of choice are different. So, while we can't speak for everyone else, we can speak for Stavvy. Below are the seven steps to close a transaction with RON within the Stavvy digital mortgage platform.
Step 1: Submit and prepare a closing request.
Step 2: Schedule a meeting date and send a secure invitation.
Step 3: The online notary verifies the signer's identity.
Step 4: The notary and signer communicate via audio-video technology within the Stavvy platform.
Step 5: Once the signer's identity is verified, the signer and notary electronically sign documents, and then the online notary notarizes and finalizes them.
Step 6: The remotely notarized documents are available to the signer for download and securely sent to the lender and title & settlement agency.
Step 7: A digital audit trail is available to align with compliance requirements.
Helpful RON Resources:
Start closing real estate and mortgage transactions with remote online notarization
With the shift in consumer demands and the clear business benefits of digital transactions, it's easy to see why many mortgage professionals are offering eClosings with RON to connect with their customers and grow their businesses in today's market.
Determining if your organization is ready to offer RON may seem daunting. However, you can avoid feeling overwhelmed by educating yourself and your team on RON now. We hope the information and RON resources shared throughout this blog will give you the confidence you need to get RON-ready and grow your business in no time. If you're ready to get started with RON,
.
Editor's note: This post was originally published in December 2021 and has been updated.
Watch an instant demo of Stavvy
Get an on demand video demo
Watch Demo