Title agents, real estate attorneys, and settlement agents, are you ready to take the next step in your digital mortgage journey? Are you interested in how mortgage technology and remote online notarization (RON) can help you close more real estate transactions?
Lisa Kalner Williams, Product Marketing Manager, and Henry Smith, Director of Implementation and Support, recently sat down to discuss the seven steps to closing a mortgage with RON in the Stavvy digital mortgage platform.
Read on, or watch the on-demand webinar for a step-by-step walkthrough of the eClosing process and important mortgage technology tips.
How to close a mortgage with RON in the Stavvy platform
Step #1: Submit and prepare a closing request.
The closing process begins when the lender clears the mortgage to close and initiates a title order request via its loan origination system (LOS) or the Stavvy platform.
Mortgage Technology Tip: A LOS integration makes the title order request accessible within your eClosing solution for a more streamlined experience.
Step #2: Schedule a meeting date and send a secure invitation.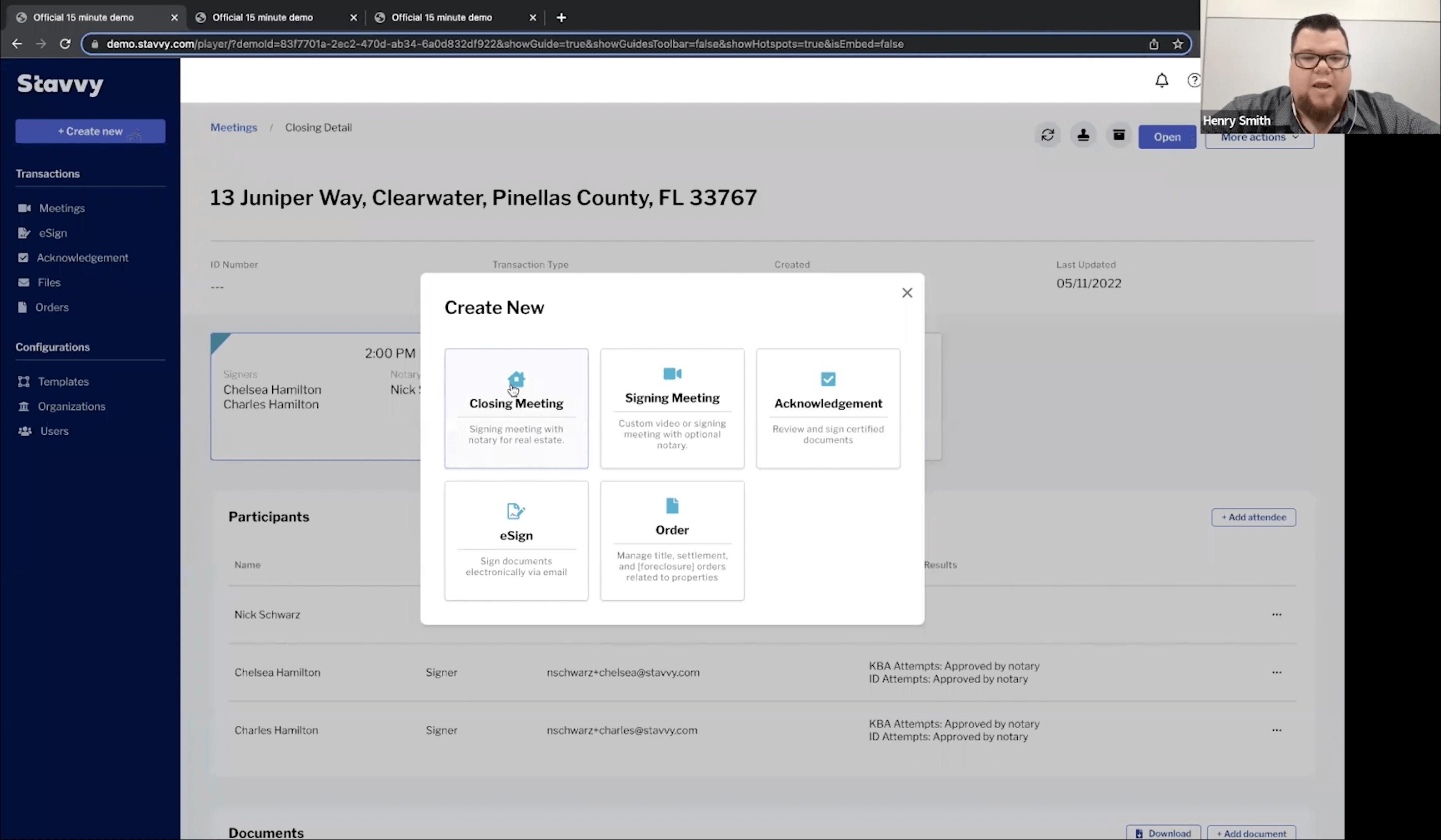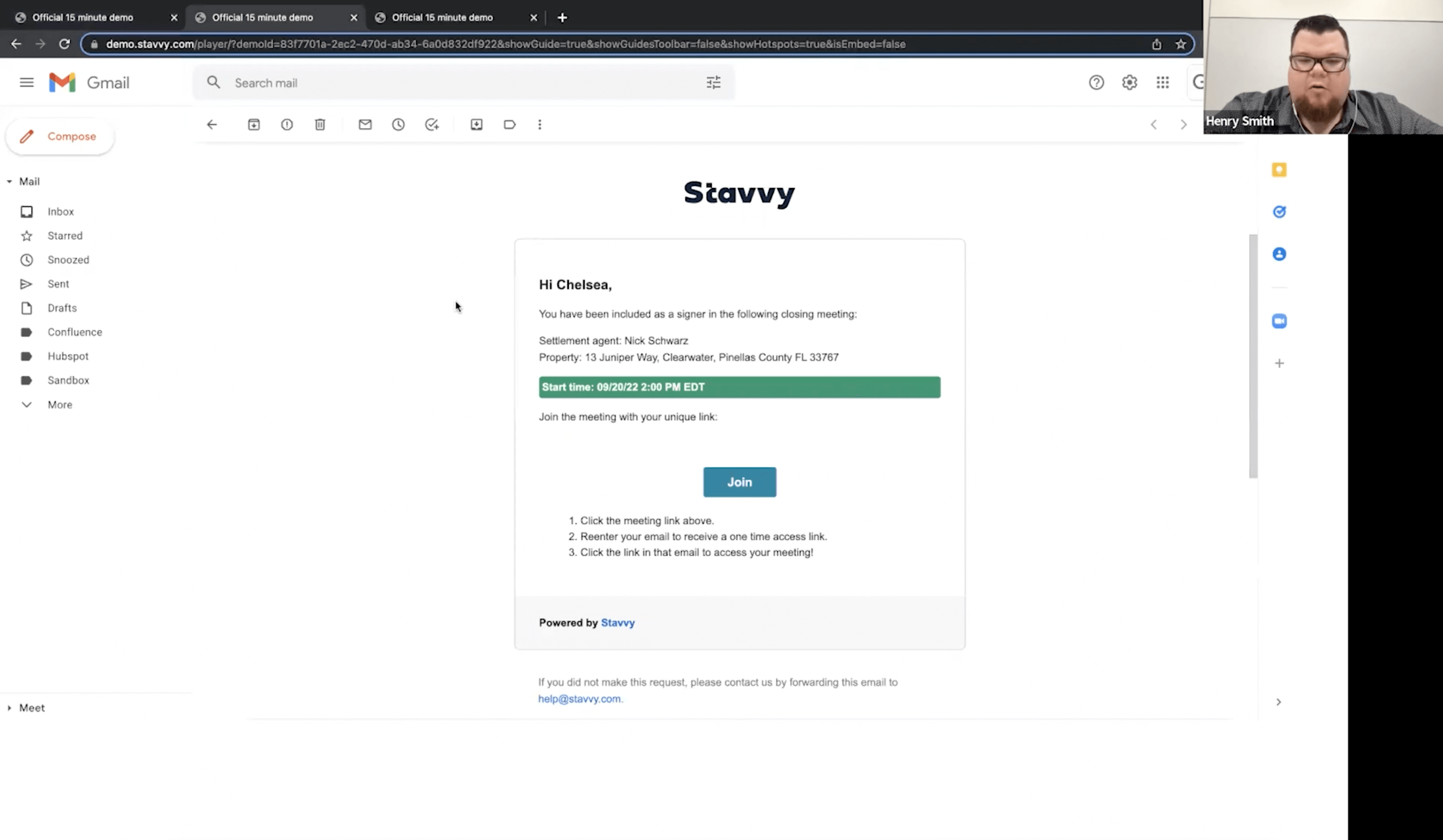 Once the meeting is scheduled within Stavvy, all signing participants receive an automated email notification with the date and time of the signing session, a unique meeting link, and detailed instructions for closing day. The unique URL leads to multi-factor authentication (MFA)—an added layer of protection with a secure access code to join the online closing session.
Mortgage Technology Tip: On closing day, it is wise to conduct a series of inspections before the session begins to ensure audio and video are working correctly. Additionally, it's essential to have a tool that provides security and integrity before a signer enters the closing session.
Step #3: The online notary verifies the signer's identity.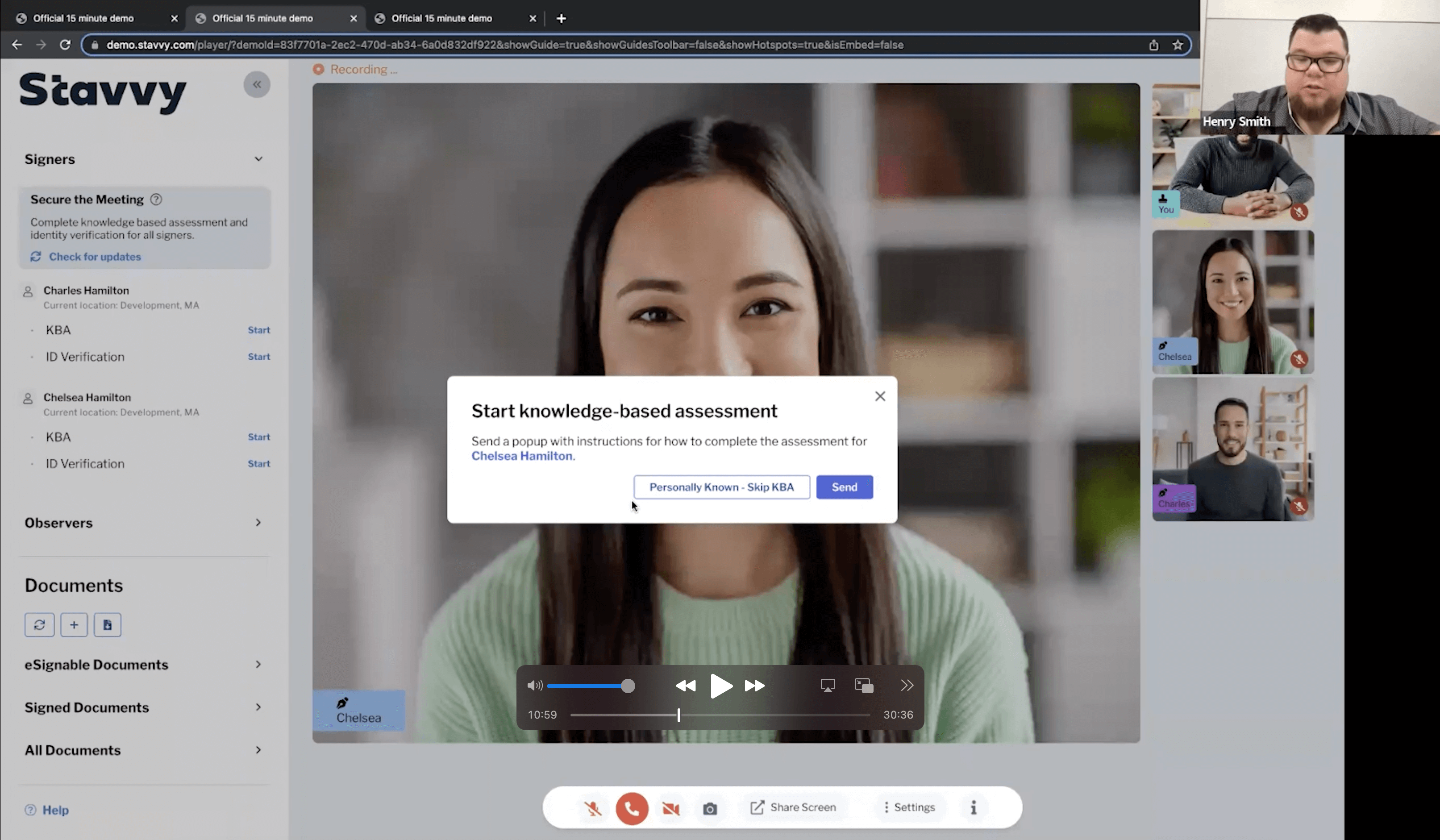 Once the signer joins the meeting, the signer's identity is verified as per the requirements of the notary's commissioning state. Once identities have been confirmed, the credential analysis portion of the identification process begins. Signers must provide their cell phone numbers and are prompted to upload a government-issued photo ID. The ID image is sent to the notary for approval within Stavvy. The online notary is responsible for guiding signers through the notarial rules, regulations, and technology time constraints before beginning the signing session.
Mortgage Technology Tip: If you're in the process of vetting mortgage technology for eClosings and RON, you'll want to make sure the product has knowledge-based authentication (KBA), a series of random questions the signer must answer in two minutes based on public records and credit reports, and credential analysis. The signers are the only people who can see the KBA questions and answers or upload a government-issued ID; however, completing this step with the online notary live adds immense value and security to the closing.
Step #4: The notary and signer communicate via audio-video technology within the Stavvy platform.
Within Stavvy, the closing meeting host and attendees are lined up on the side of the screen with the mortgage documents in clear view. At this step, it is recommended for signers and notaries to introduce themselves as another method of identity verification.
Mortgage Technology Tip: When looking for digital mortgage technology, it is encouraged to find a product with the option to have unlimited attendees in the meeting session. Having the flexibility for limitless attendees, such as loan officers, additional title partners, realtors, attorneys, and parents, helps create a memorable digital closing experience.
Step #5: Once the signer's identity is verified, the signer and notary electronically sign documents, and then, the online notary notarizes and finalizes them.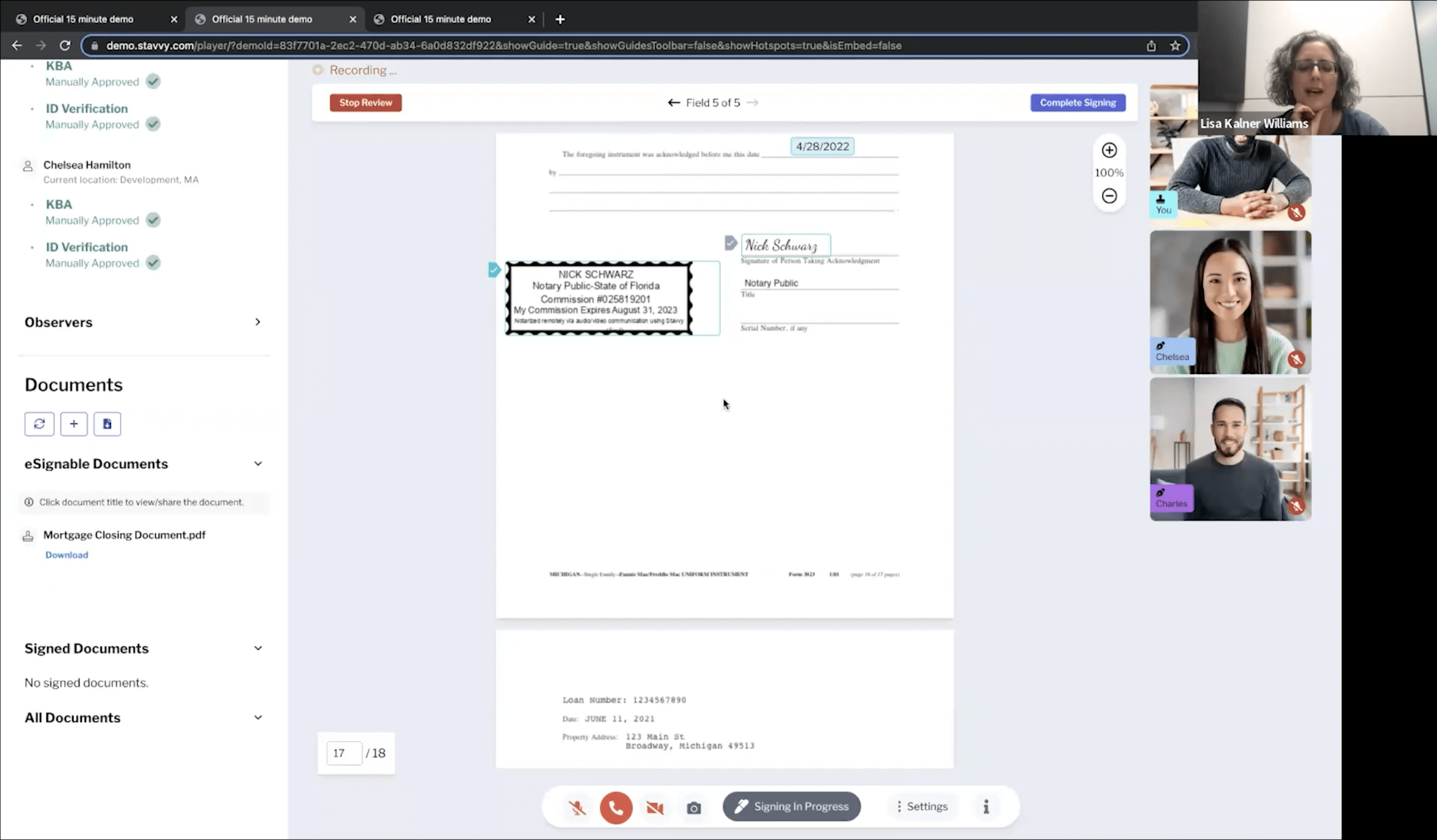 The Stavvy platform uses the digital notary seal (applied by the notary) and embeds the notary's digital certificate into the electronic document to tamper-seal.
Time savings is significant at this point in the process. Signers no longer have to flip through pieces of paper to find flagged sticky notes to sign. Instead, they instantly click the next arrow on-screen and move to the next signature line.
At this step, Stavvy also provides added compliance safeguards, which you can't find with paper mortgage closings. Any missed signatures are flagged and brought to everyone's attention during the live closing session, saving time and eliminating post-closing lender requests.
Lastly, based on state requirements, Stavvy offers the convenience of being able to use the same eSignature every time. End-users can also navigate, drag, and drop annotations and have the freedom to flip back and forth between digital documents.
Mortgage Technology Tip: It can be a cumbersome step for online notaries to set up a notary profile and get their digital certificate set up. Therefore, it is encouraged to look for a mortgage technology product that can help guide this process. The Stavvy platform makes this set-up easy and embeds an online notary's digital certificate into the document instantly, which is self-authenticating and visible to all closing participants.
Step #6: The remotely notarized documents are available to the signer for download and securely sent to the lender and title & settlement agency.
At this point, the closing session ends, and certified documents are made available to all participants.
Mortgage Technology Tip: When searching for mortgage technology to support your business, it's important to think beyond RON and look for a product that can grow with you and your digital mortgage needs, such as eRecording.
Step #7: An audit trail is available to align with compliance requirements.
The closing is complete and a digital audit trail is available for review. The audit trail is available as an on-demand PDF and satisfies most compliance queries. The recording and notary journal are also housed in Stavvy for easy access.
Mortgage Technology Tip: It's possible that a regulatory body may ask to review the signing session for compliance reasons post-closing. A digital audit trail breaks down the closing session to the second—starting with when signers enter the closing session to KBA, eSignatures, and applying the notary seal.
Frequently asked questions about digital mortgage technology
Lisa and Henry wrapped up the webinar with a live Q&A session where they fielded several questions about RON technology. We have highlighted three FAQs here and provide answers to many more in the on-demand webinar recording and RON FAQ blog.
What are the key features when comparing RON technology providers for eClosings?
Technology security concerns keep mortgage professionals sticking to what they know. Why? Because they often think that technology comes with significant risks. This idea couldn't be further from the truth. In the case of eClosings with RON, MFA, KBA, and credential analysis are important technology capabilities and ensure that everyone in the closing session is who they say they are. For added protection, you'll also want to look for a digital mortgage solution that offers a digital audit trail and annotation feature. To help you separate RON fact from fiction, we debunked common RON myths in a recent blog post.
What does RON product onboarding and implementation look like?
A good onboarding process and support team is essential. The key to success is having access to a support team that is willing to walk you through the process and answer your questions. Stavvy offers a full implementation and onboarding team and customer success manager to guide you every step of the way.
How do I know if RON is allowed where I perform closings?
Most Secretary of State websites have a wealth of information and resources you can tap into. However, if you close transactions in multiple states or don't have the time to source information, you may want to leverage simple technology to streamline the process. The Stavvy digital mortgage platform has a built-in Eligibility Engine that instantly determines if your closing is eligible for eNotarization and eRecording.
If you're interested to see how Stavvy can help you save time and power eClosings with RON, book a demo today.