Jan 24, 2023
Remote Online Notarization Legislation: 2023 Predictions
By Stavvy Team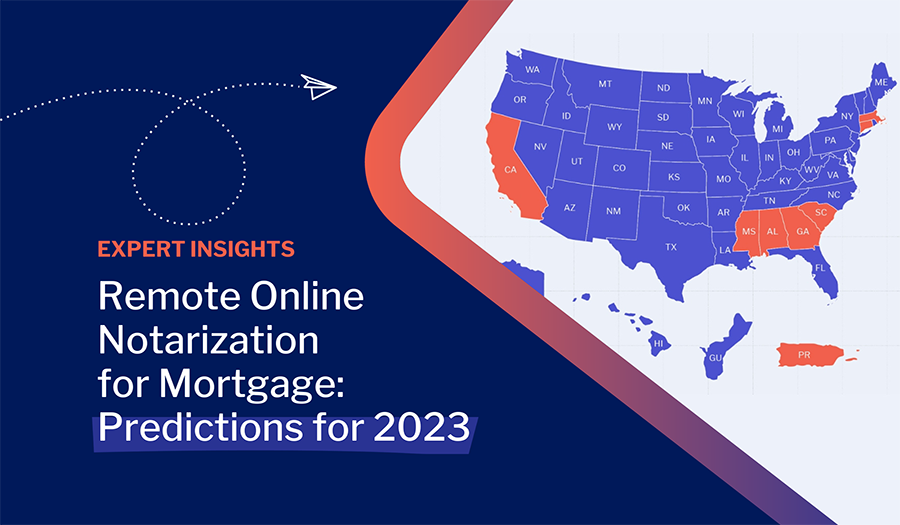 Remote online notarization (RON) has been a growing trend in the mortgage industry in recent years, with more states adopting legislation permitting RON for real estate transactions.
RON legislation unlocks the benefits of electronic signatures by allowing mortgage professionals and consumers to notarize mortgage documents electronically through audio-video technology, saving costs and improving the closing experience.
Jeremy Potter, VP of Product Strategy, and Michael McGregor, Director of Regulatory and Compliance, discussed the current state of RON legislation for mortgage transactions and shared their predictions for 2023 in a recent webinar—The RONdown: RON for Mortgage in 2022 and Beyond.
Throughout this blog post, we break down the webinar sharing timely insights along the way so you can feel confident in remote notarization and eClosings.
If you prefer to watch the free on-demand webinar, you can
.
The growth of remote online notarization for mortgage transactions
RON has been the main topic of discussion in the mortgage industry for several years. From speaking sessions and events to news articles, legislation, podcasts, and RON educational resources, industry professionals, government entities, and consumers alike are interested in remote notarization.
In 2022, eight United States jurisdictions, including Arizona, Delaware, Maine, New York, North Carolina, Rhode Island, Vermont, and the District of Columbia (DC), enacted permanent RON legislation bringing the total number of states with legislation to 44 plus DC and Guam. To allow state officials ample time to apply the new laws, some jurisdictions, including Delaware, DC, Maine, New York, and North Carolina, delayed the effective implementation date until 2023.
The SECURE Notarization Act, a federal bill that sets the floor for all consumers to access remote notarization, passed the House of Representatives in 2022 with a solid vote. However, the Senate failed to pass the bill before adjourning at the end of 2022. Unfortunately, with the new Congress starting on January 3, 2023, the Secure Notarization Act will need to restart the legislative process by introducing a new bill.
Additionally, ALTA's latest Digital Closing Survey suggests the industry is on the precipice of full RON adoption. Despite the number of companies offering RON decreasing to 30% in 2021 compared to 35% in 2020, the industry continues to operate well above ALTA's 2019 digital closing benchmark of 19%. Companies interviewed at the time of ALTA's survey anticipated digital closings to increase in 2022.
The benefits of remote online notarization for mortgage transactions
Remote online notarization is gaining traction among lenders, realtors, and title professionals due to the operational efficiencies of eClosings.
Technology, more specifically an eClosing solution with RON, helps address the real estate and mortgage industries' need and desire to enhance the consumer experience, drive and retain business, cut costs, and improve profitability.
Challenges of remote online notarization for mortgage transactions
Despite RON benefits, there are still obstacles to remote online notarization adoption, including RON legislative implementation and slow lender buy-in.
Stavvy thought leaders Michael McGregor and Jeremy Potter cover this topic extensively during The RONdown: RON for Mortgage in 2022 and Beyond webinar. For their full thoughts, consider watching the on-demand recording. However, if you prefer to continue reading, we cover a few of their main points in the sections below.
Remote online notarization implementation
While eight United States jurisdictions passed permanent RON laws in 2022, Michael McGregor cautions professionals to stay abreast on updates to ensure the correct interpretation of the law, particularly effective dates.
"States often pass laws with delayed implementation dates, giving the Secretary of State and the industry the ability to adjust to the new legislation. We have seen this in several states, for example, Illinois. Illinois passed its RON law in 2021 that was subject to take effect upon final regulations being issued. As of December 2022, we're still waiting for final regulations," shared Michael.
He also stated that the delays are often centered around the setup requirements from the Secretary of State's office.
"There's a whole setup that has to take place. In some states, the notary has to register and provide certain information about vendors and providers. The notaries must disclose that they plan to use a digital mortgage platform, like Stavvy, and register with the Secretary of State's office. And so, the Secretary of State has to set up the infrastructure for this, and it doesn't happen overnight."
But creating a framework for RON isn't the only blocker to full adoption. Some states have yet to make RON available. Michael believes passing a bill similar to the SECURE Notarization Act will help bring greater clarity to mortgage professionals and thus propel digital adoption forward.
"Currently, most states have interstate recognition statutes on their books that say, 'we'll recognize notarization from other states.' So if you have a notarization on a mortgage document from California, New York will recognize that as a valid notarization. A federal bill like The SECURE Notarization Act would strengthen those provisions further and bring comfort, clarity, and adoption."
Attorney states have also been slow to adopt RON. However, the industry saw some traction in these states, with North Carolina, New York, and Maine passing legislation in 2022. Jeremy Potter believes this momentum will pave the way for additional attorney states to follow suit.
"I think we'll see other attorney states get comfortable with the legal language. They've had a chance to see it in practice, you know, across state lines or nearby, and so you'll start to see some of these holdout states pass legislation and further RON adoption," shares Jeremy.
"For example, one popular provision for attorney states is the attorney performing the closing is in state. That helped push RON legislation across the finish line in Maine."
Slow lender adoption
Cautious mortgage lenders waiting on the sidelines of digital innovation have challenged RON adoption in the industry. Jeremy discussed that most nationwide and larger lenders have been waiting to see critical mass for remote notarization. He believes that we've reached the tipping point with more than 40 states authorizing permanent RON and will begin to see a lender adoption surge.
However, adopting RON isn't as simple as saying 'yes' to a new form of notarization. Fortunately, there are technology companies available today to help with that transition. Stavvy, for example, offers flexibility, choice, extensive onboarding to familiarize lenders with the digital mortgage platform and eClosing solution, and access to customer support.
Predictions for the future of remote online notarization for mortgage transactions
Taking a look into their crystal balls, Jeremy and Michael shared their predictions for the future of remote online notarization.
RON Prediction #1: Georgia, Massachusetts, and Connecticut will pass RON bills in 2023.
Michael believes Georgia, Massachusetts, and Connecticut will pass RON bills soon after seeing RON legislative success in North Carolina.
"North Carolina successfully got their RON bill over the finish line in 2022. A key provision in North Carolina's RON legislation is that the notary must ask each signer if they want an attorney present during the RON meeting session. If they do, they are allowed the right to an attorney. I think this will comfort Georgia, and we'll see similar language in Georgia in 2023."
Massachusetts came close to passing RON legislation in 2022. However, Michael shared during the webinar that a lack of education and a few senior legislature members feeling uncomfortable stalled the bill.
"They understood the business implications of RON; therefore, I think a renewed educational effort on the benefits of RON will get Massachusetts over the finish line in 2023."
Jeremy shared that Connecticut is also close to passing RON legislation, which may be the tipping point for Massachusetts to follow suit.
RON Prediction #2: Increased adoption by mortgage lenders
When reflecting on the current state of the market and opportunities with technology, Jeremy shared that title and settlement professionals are ahead of lenders regarding RON and digital adoption.
"Lenders are proceeding cautiously because they are trying to understand where best to put their investment and how to spend money now that refinance volume and historically low rates have gone away."
As mortgage lenders work the new market conditions, Jeremy reminds the audience that RON addresses the most important things to lenders: cost savings, error reduction, time savings, consumer experience, business development, and lead generation.
"eClosings and RON, through a digital platform like Stavvy, reduce the risk of fraud with digital audit trail functionality that provides real-time visibility and certainty. Lenders know exactly where a closing is, who's working on it, the status of signatures, and more," said Jeremy.
If you're interested in learning more about the current state of RON, predications for 2023, and seeing how our thought leaders answered pressing questions about RON legislation and adoption, watch the on-demand recording of
.
Legal Disclaimer: This blog is being provided for informational purposes only and cannot be copied without the consent of Stavvy Inc. This blog is not a comprehensive overview of the subject and is not intended to provide specific legal or financial advice or any endorsement of any product or business. Please seek legal or financial advice before taking any action on the matters or products discussed herein. While we make every effort to ensure that the information we are sharing is accurate, we welcome any comments, suggestions, or correction of errors.
Watch an instant demo of Stavvy
Get an on demand video demo
Watch Demo