Feb 17, 2023
Remote Notarization in New England: Where is it Allowed?
By Mike McGregor - Director of Regulatory and Compliance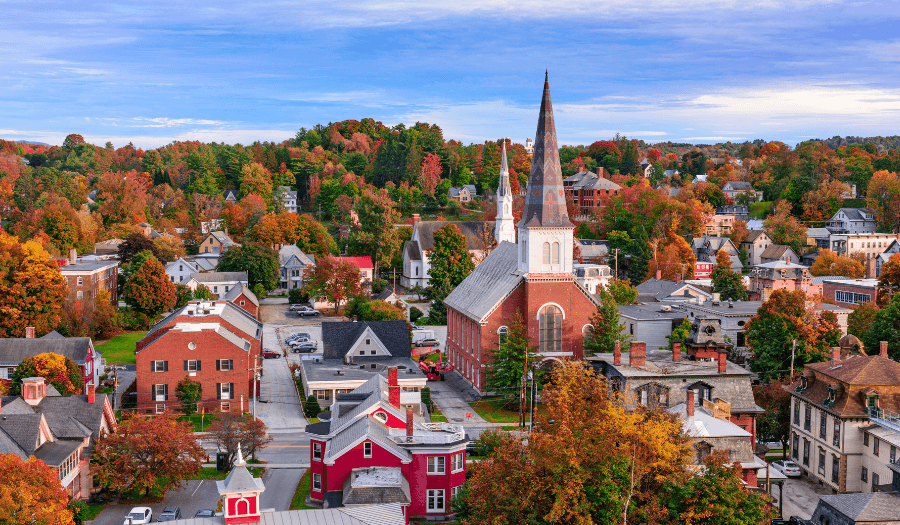 Remote online notarization (RON) enables greater convenience, security, and fewer errors for everyone in the mortgage process – yet not every New Englander has access. At least, not yet.
Are you wondering where RON is allowed in New England? Throughout this blog, we break down RON laws state by state so that you know what to expect regarding your remote notarization options in New Hampshire, Rhode Island, Maine, Vermont, Massachusetts, and Connecticut.
Remote online notarization (RON) in New England
Several New England states allowed for the temporary authorization of remote online notarization at the onset of the COVID-19 pandemic – many of those temporary solutions are now permanent. However, some states in the New England region have still not passed permanent remote notarization legislation. Let's take a closer look at each state and its RON permissibility.
New Hampshire remote notarization
In 2021, New Hampshire became the first state in the region to authorize remotely notarized documents using audio-visual technology permanently. The New Hampshire Uniform Law on Notarial Act effectively replaced the traditional requirement that the signer of a document must be in the notary's physical presence. Before offering RON services in New Hampshire, however, notaries must notify the Secretary of State's Office of the technology provider used.
Rhode Island remote notarization
On June 30, 2022, Governor Daniel McKee signed Rhode Island's RON law, outlining the standards of conduct for notaries relating to electronic signatures. The Secretary of State will issue regulations clarifying the provisions of the bill.
This bill allows homebuyers to sign documents remotely from anywhere in the world with the assistance of a Rhode Island-commissioned notary. For example, before 2020, a person living in California that wanted to purchase a house in Rhode Island would have to physically present themselves to a notary in the state to sign the mortgage documents – and that changes with the passage of this permanent Rhode Island RON law.
Maine remote notarization
Alongside Rhode Island, Maine enacted legislation that permanently authorizes remote online notarization – but the law will not officially take effect until July 1, 2023. Until then, an executive order temporarily allows signers to appear remotely in real-time before a notary using audio-visual technology. Unlike an eClosing with RON, signers must use wet ink and mail their documents to the notary. However, that physical component will disappear once the RON law in Maine takes effect.
Vermont remote notarization
On July 1, 2022, Vermont Governor Phil Scott signed into law the Uniform Real Property Electronic Recording Act, permanently authorizing remote notarization in the state with guidelines.
In addition to allowing eRecording, this bill allows a notary public obtaining a "special commission endorsement" located in the state of Vermont to notarize documents using communication technology for a remotely-located individual. The legislation replaces the "physical presence" requirement of traditional notaries with the requirement that the notary identifies the remote signers through personal knowledge, oath, or identity proofing. Unlike some states, Vermont does not mandate either credential analysis or knowledge-based authentication. Instead, the Vermont law requires "a process for reviewing personal information from public or private data sources." We'll have to wait for the Secretary of State to issue regulations for more details on what this means in practical terms.
Delaware remote notarization
Remote online notarization in Delaware was permanently approved in the summer of 2022, but it won't go live until August 1, 2023. When live, the bill will allow a Delaware notary to perform a remote online notarization for a person in the United States. Until that date, only Delaware attorneys are permitted to conduct remote notarization.
Massachusetts remote notarization
Massachusetts state lawmakers came close to passing RON legislation in 2022 – but adjustments were not made in time for the bill to pass. Specifically, several influential lawmakers believed that they did not have enough time to study the bill before voting on it, and the session adjourned before they could.
Connecticut remote notarization
Connecticut also had a RON bill on the docket during its 2022 legislative session, but lawmakers failed to vote on it, citing a lack of knowledge surrounding the caveats of the bill. In short, too little time and a lack of knowledge surrounding RON's convenience and security benefits got in the way of the law's passage. You can find more insights on RON legislative blockers on our blog.
In January 2023, the legislatures of Massachusetts and Connecticut will reconvene, and there is an opportunity to further educate these legislators on the benefits of remote online notarization for their constituents.
Stavvy will continue to work with its industry partners to ensure that the citizens of Connecticut and Massachusetts enjoy the same benefits as consumers in New England. We believe that every homeowner should have the right to choose RON.
To learn more about Stavvy's RON solution,
with a member of our sales team.

Editor's note: This post has been updated to incorporate recent developments since the blog post was originally published.
Mike McGregor - Director of Regulatory and Compliance
Author
Watch an instant demo of Stavvy
Get an on demand video demo
Watch Demo