As an experienced mortgage professional, you've probably researched electronic closings and understand the benefits.
Perhaps you're ready to find the perfect digital closing partner, a technology company that understands the mortgage and lending space and RON compliance and is committed to you and your long-term business goals.
Wherever you're in your digital mortgage journey, selecting the right eClosing partner and platform for your company is one of the most important steps to digitally transforming your business.
What is an eClosing platform?
An eClosing platform is a digital tool that allows the end user to close a mortgage electronically. The digital mortgage closing takes place through a secure digital platform where closing documents are available for execution and distribution electronically by all stakeholders, including lenders, banks, mortgage brokers, title and settlement agents, realtors, and homeowners.
Some eClosing platforms only digitize a portion of the paper mortgage process, be it RON, eSignature, or eRecording, requiring the end user to purchase, learn, and implement multiple systems and products, eating into valuable time and money savings.
As a result, leading companies in the mortgage industry are aligning with all-encompassing platforms, like the Stavvy digital mortgage platform, to offer eClosings, streamline their work, boost revenue, delight customers, and reduce operating expenses. And now you can, too.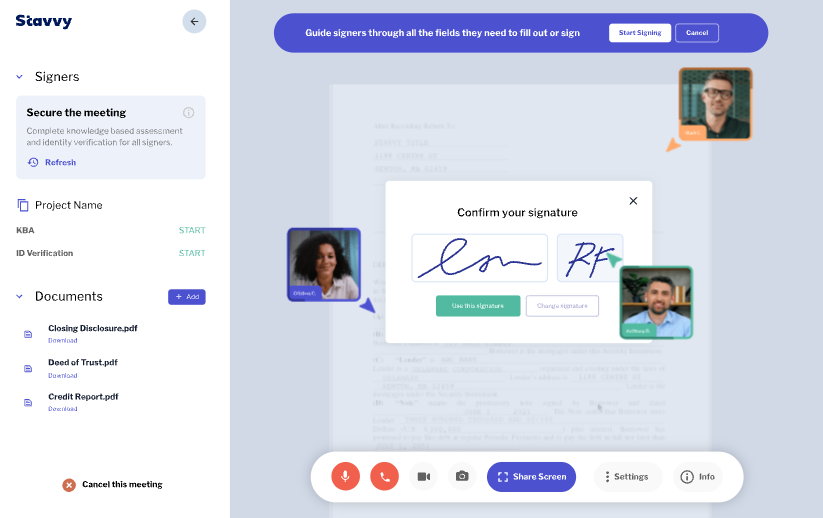 Popular eClosing platform features
From electronic notarization to electronic signature, multi-factor authentication, and user experience, these are the ten must-have features every mortgage professional needs in an eClosing platform.
1. Audio-visual communication
Audio-visual communication is a jurisdictional minimum for any digital closing with RON because all parties must be seen and heard during the closing. The audio-visual technology should be as approachable and user-friendly as popular videotelephony products, like Apple's FaceTime, and have video recording and storage capabilities. Compliant RON closing sessions require an electronic record of the notarization session, with the responsibility traditionally falling on the online notary. An eClosing partner will know this and include it in their platform's standard RON workflow, so it's accessible to all parties. This feature alone will provide greater convenience and transparency for you, your team, and your customers.
2. Electronic signature
Collecting electronic signatures from every signer with an eSignature tool is next on the must-have feature list. This functionality allows everyone involved to review and sign the same documents on closing day, improving transparency and reducing the need to gather materials from individual stakeholders, like the borrowers, lender, title agent, and lawyers. This convenient digital feature can save your organization time, money, and travel expenses, right out of the gate.
3. Identity authentication and verification
Selecting an eClosing partner who understands the importance of security is critical to digital mortgage success. The digital platform must authenticate and verify everyone signing on the dotted line before the closing begins. Authentication on closing day happens via digital credential analysis, which is the process of verifying a signer's government-issued ID. Most digital closing platforms have this feature built into their product, so you can feel confident about securely executing electronic notarization and digital closings.
4. Access via multi-factor authentication
Not just anyone should be able to log into or gain access to your eClosing platform. Login requirements for all parties should include multiple security checks, such as passwords, text, email verification codes, and confirmations through software-based authenticators or knowledge-based authentication (KBA). KBA is a method of verifying a signer's identity by asking them to answer a series of "secret" questions.
5. eRecording
An eRecording feature or integration allows you to seamlessly go from a successful digital signing session to sending your fully executed and notarized mortgage documents to your local county or municipal clerk's office without leaving the platform (or heading out to the mailbox.) This functionality and digital accommodation can save you and your staff valuable time, money, and resources.
6. Digital certificates
State-level RON legislation requires a digital certificate for eClosing compliance. A digital certificate is an electronic file with a unique digital key that ensures the documents are tamper-proof and sealed. The unique key provides additional assurance that the digital certificate is valid, secure, and correctly executed, providing you, as the end user and everyone involved, peace of mind.
7. Technology integrations
Other nuances to the digital closing process need some consideration, such as the platform's ability to integrate with other mortgage-specific software, like a lender's loan origination system (LOS), eRecording tools, real estate appraisal platforms, title production software platforms, and more.
8. Digital audit trail
Your eClosing platform should ensure that all relevant documents and the recorded notarization session are saved and tamper-sealed with an accompanying digital audit trail. A digital audit trail shows the record of a particular document or files each step in the mortgage closing transaction. This specific feature is a crowd pleaser and may come in handy in the event of litigation or when trying to recollect an event that transpired during a recorded signing session.
9.
Simple user experience (UX)
User experience or UX is a must-have design element for any technology product. Simple UX ensures ease of use, increases adoption rate, and in the case of an eClosing platform, ensures an effortless experience for you, your team, and your homeowners. If you aren't sure how to determine if an eClosing platform has a simple user experience, you can start by asking the following questions during a platform demo or product walk-through:
How intuitive is your product to use?

Are there clear instructions for all parties or a chat feature if I get stuck?

Is customer support easily accessible?
How difficult will it be to onboard my team, and do you offer training?
Does your product support my current workflow, or will our processes need to evolve?
10. Accessible design
The tenth and final product feature is design accessibility. Aligning yourself with an eClosing partner that is familiar with Web Content Accessibility Guidelines (WCAG) reports and designs for accessibility ensures you can close a transaction with anyone, anywhere, anytime. Accessible product design may look like a closed caption feature during remote closing sessions, language assistance, alt text for images, and an instant chat feature, to name a few.
Stavvy: Your trusted partner for eClosings
In addition to the ten must-have features previously mentioned, don't overlook the need for a top-notch customer success team and a product that can grow with your business. Electronic signature, online notarization, and eRecording features are just the tip of the iceberg for mortgage digitization. Separately, a dedicated customer success team ensures that your goals are met, the implementation experience is seamless, and training is available.
If you choose an eClosing partner with a platform with these must-have features, you'll be well on your way toward digital closing success.
Want to see the Stavvy digital mortgage platform and these must-have features in action? Book a personalized, live demo with our team today.
Are you a title and settlement agent eager to learn more about eClosings with RON? Download a copy of our eBook.